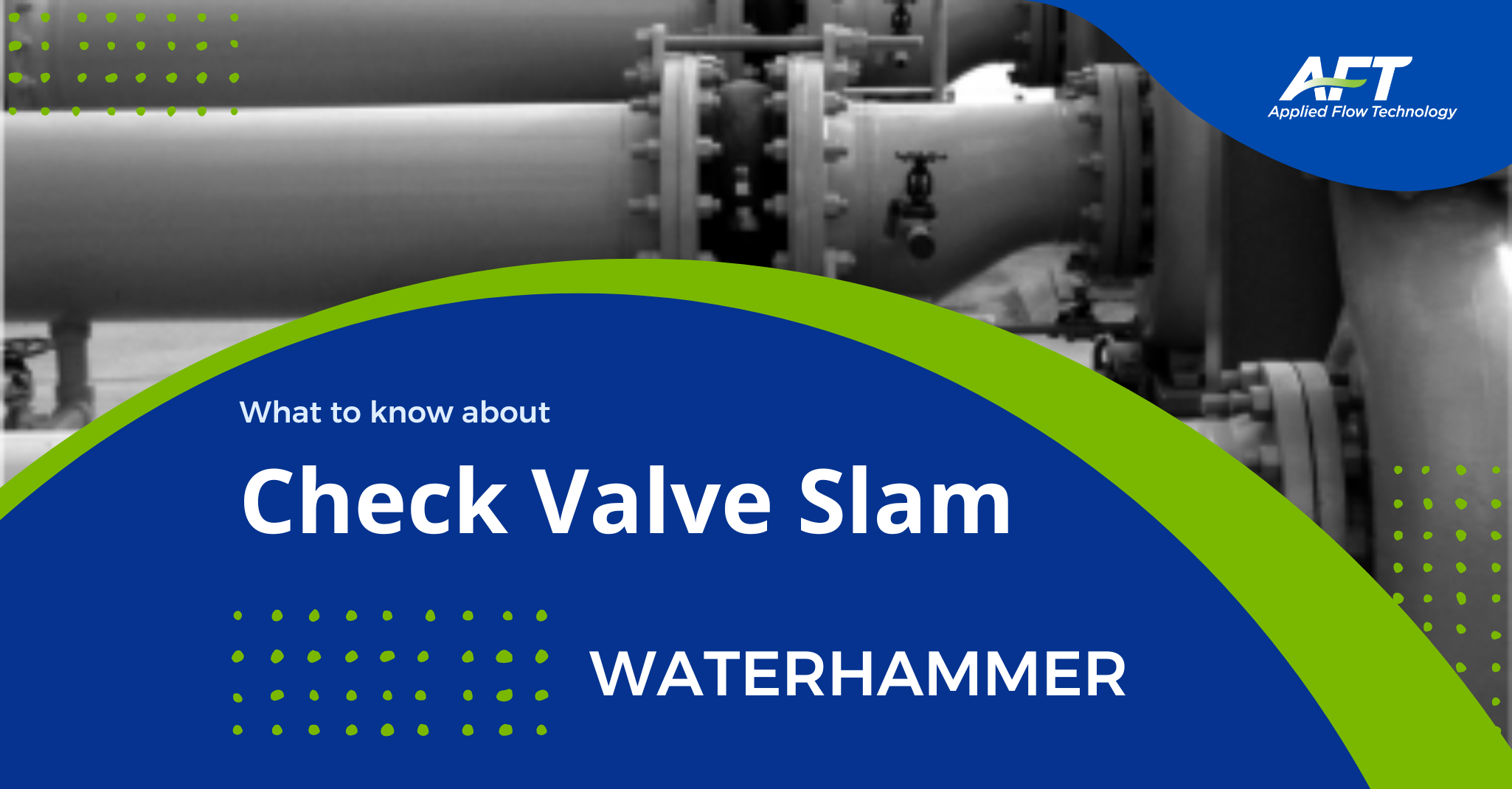 Why Check Valves Slam
and What To Do About It
Check valves exist to protect your equipment, typically pumps, from reverse flow. They are necessary, but they can be problematic. When they close with a large amount of backward flow, the valve can slam shut and cause further surge. This is known as check valve slam and can be quite dangerous.

The best way to test the response of your check valve in upset conditions, such as a pump trip, is with modeling software. AFT Impulse is our surge simulation tool that does the math you need for proper analysis. AFT Impulse contains a default dataset of realistic check valves based on field-tested fluid deceleration. Test your system with ease either with these deceleration models, or with your own check valve data. Learn more about check valve modeling and the power of AFT Impulse in a recent webinar.

How should you pick a valve to avoid slam?
There are 3 factors to consider:
1) Fluid Deceleration - How quickly conditions change
2) Valve Characteristics - How the valve itself reacts
3) Maximum Reverse Velocity - How much reverse flow results
Preventing and Mitigating Check Valve Slam with AFT Impulse
Check your valve before you wreck your pump. This webinar will outline some considerations for check valves including why check valve slam occurs and the different approaches to avoid slam. We'll also take a look at a slam event and use AFT Impulse's built-in deceleration curves to find which valve will work best in our case.
AFT Impulse™ Matches Data For Pumping Station Check Valve Closure
To prove the power of modeling, check out a case study from Barcelona, Spain where engineers were tasked with improving the surge response of check valve slam in a drinking water system that helped to serve 3.2 million people. They field-tested both swing and nozzle check valves in pump trip scenarios, and they compared the measurements to what AFT Impulse predicted. It is no surprise that the match for maximum and minimum pressures were almost exact. They found with confidence that the nozzle check valves would be safer for their system.
WATERHAMMER BLOG: 
Check valves are an essential component in any system. Whenever a pump is present, there is the potential for the pump's driving force to be removed, and for flow to reverse direction through the system. A check valve works to ensure the system does not see sustained reverse flow.

Read how to minimize check valve slam and how to match the check valve with the overall system.